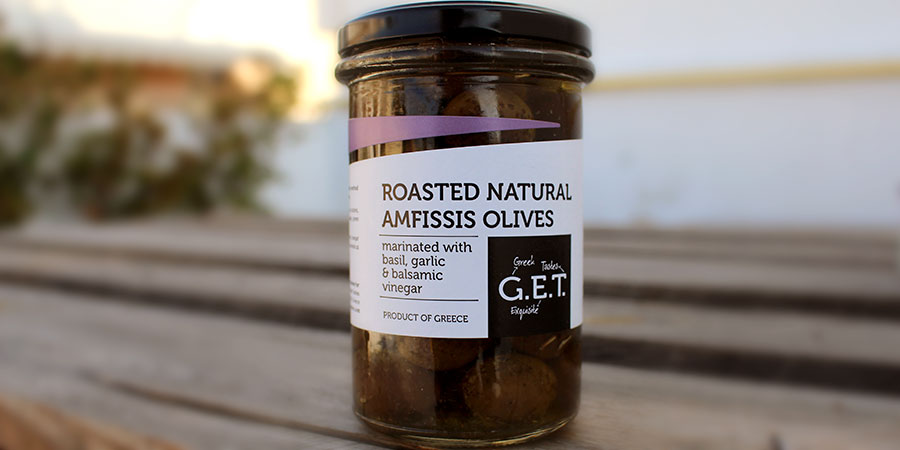 Here at the FnL guide, we always feel honoured to be able to try products before they hit the marketplace.  We're overjoyed though when they come from producers whose work we respect as they continue to strive for excellence during hard times like these. It's great to share the same views about the value of Greek produce and gastronomy as a whole with those who actually put them into practice on a daily basis. 
In this case I refer to a new line of Amfissa green olive products from G.E.T, who we originally got to know as producers of extra virgin olive oil with a number of Greek and international accolades. G.E.T is the acronym of Greek Exquisite Tastes and even though it might sound over the top, it actually encapsulates the philosophy and vision of its owners. 
Olive products
The G.E.T extra virgin olive oil from Laconia has established itself as one of the best in the country. The time was ripe for the next step, which involves the use of the olives themselves. It all began in Lianokladi in Fthiotida with the green Amfissa olive groves which produce the edible Konservolia variety.  Its green version is smaller than the Halkidiki Stroggylolia variety but rich in aroma and flavour with a uniquely strong and crispy skin.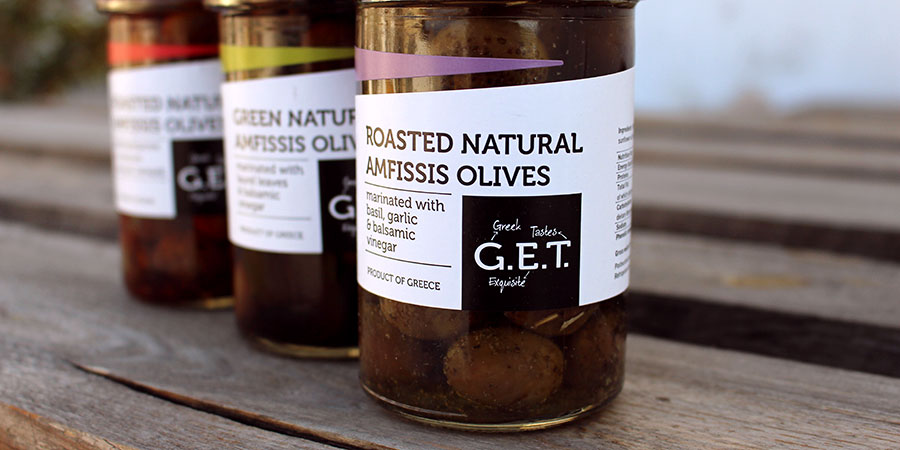 The olives are harvested by hand in early autumn and through a slow process, which lasts about 10 months, they lose their bitterness and are left to mature and ferment in order to reach their flavour peak in late May / early June. During this period the olives are stored in special spaces with monitored conditions rather than being left outside, so as to mature and get their crispy skin. The olives are then baked so they can further release their complex character and are marinated just before being packaged. 
The first G.E.T jar that will become available will include green olives in their original form, without baking, marinated in balsamic vinegar and bay leaves.  The product is aromatic with a sweet and sour taste from the combination of the original bitterness with the flavour of the vinegar. The second one includes baked olives marinated in subtle boukovo (Greek chilli flakes) and spicy red peppers, which bring out the intense olive flavours and add depth to them. The third recipe is a gastronomic surprise as the baked olives are marinated with basil, garlic and balsamic vinegar in order to produce a balanced but complex flavour and aroma, which allow our taste memory to bring back very traditionally Greek images. This would make the perfect accompaniment to a high-end spirit like tsipouro, ouzo and gin or a dry martini. 
The olive series also extends to a range of olive pastes in three flavours: one with Korinthian raisins and almonds, another with blond raisins and anchovies and a third with grilled vegetables like aubergines, red peppers and capers.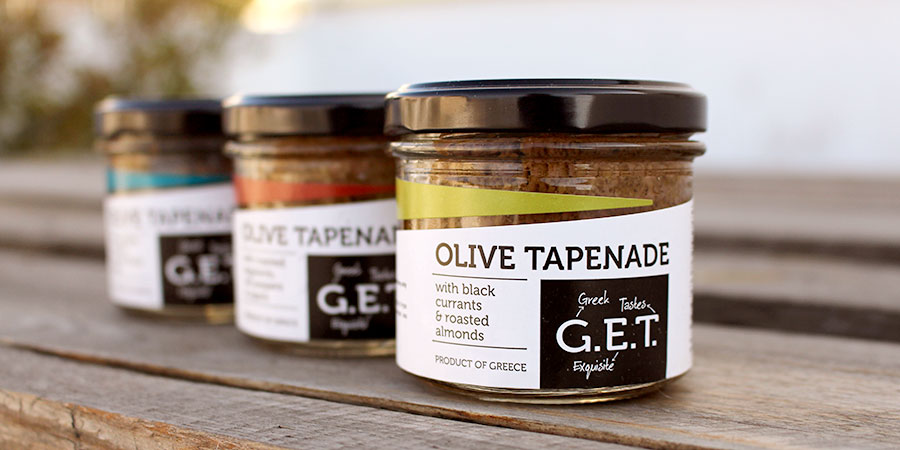 Amfissa olives
Olive trees are intrinsically linked to Greek history and it would take thousands of words to explain their importance. Amfissa is traditionally an olive producing region from ancient times due to its geographical position and its protected status as part of the Delphian landscape. It's the biggest olive grove in the country with 1.200.000 trees and one of the oldest as it's over 3,000 years old and protected by Unesco as a site of cultural heritage. 
The edible green Amfissa olive is cultivated in other parts of Greece like Volos, Pelio, Arta and Agrinio but it's generally an underrated variety.  Its wealth of flavours hasn't really been fully explored until now as it's been primarily used for the mass production of olive oil.
The producer
G.E.T started out in 2012 when Vasilis Ayvatzoglou and Mary Karopoulou decided to take charge of their 100-year old family olive grove. While studying medicine in Italy Vasilis was inspired by with the way Italians dealt with their olive oil and all its related products.  Places like Ferrara and Tuscany were able to convince Vasilis to leave his studies behind and return to nature. 
«In Italy, every home, or most of them at least, has oil for cooking and two or three different bottles with various characteristics which they use for certain types of food. That's the way I came to understand what olive oil really means and discovered its enchanting culinary potential».
G.E.T was created in order to showcase quality above all else, and that translated into a lot of care starting from the soil to the olive itself and the packaging after that.  The team also includes Triantafillos Petkanopoulos who has a lot to do with coming up with the recipes and Melina Konstantinidi who designed the packaging.  This is not an easy road to travel.  Their belief in the end result has armed Vasilis and Mary with the necessary patience that has allowed them to produce award winning olive oil and a series of green Amfissa olive culinary miracles that you're bound to fall in love with. 
User Comments
Login or register to join the conversation