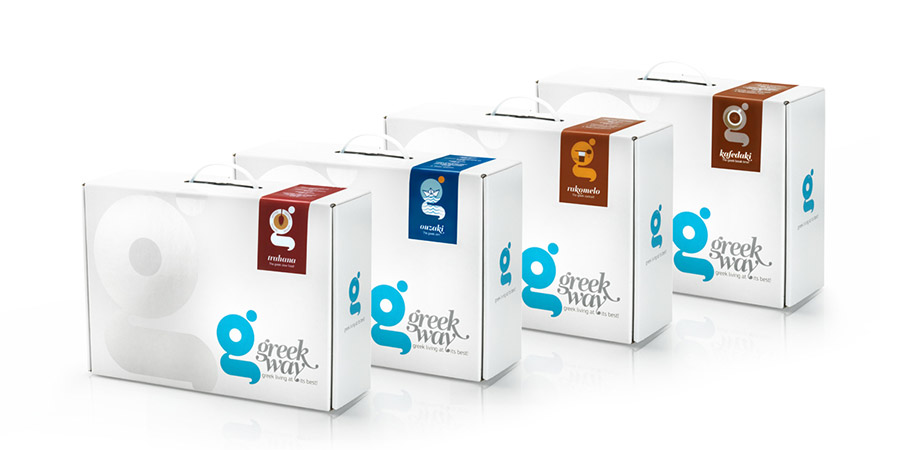 Remember the little satyr statue with the erect penis or the colourful woollen bags, which used to cover every inch of Plaka? Well forget about them if you haven't done so already.  Greek souvenirs have developed in leaps and bounds in recent years by combining elements of Greek art, design and all around creativity.  One of the main reasons for this shift has been modern Greek gastronomy as there are all kinds of products making their way into visitors' suitcases: beautiful olive oil bottles, award winning (both in taste and design) bottles of ouzo and a whole host of other great flavours in well designed packages.
As of today, we have another contender: the new Greek Way mini suitcases. They are a line of 4 themed boxes filled with Greek products, aiming to give an authentic Greek experience.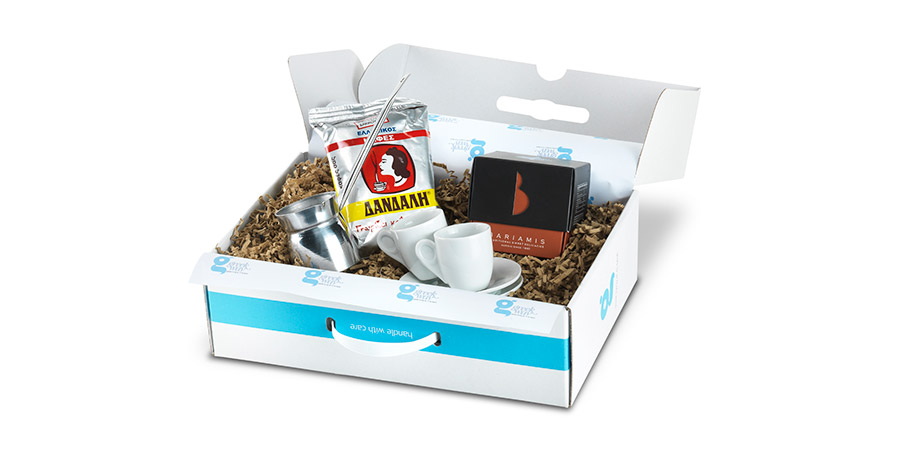 The idea came about this past April when friends Stelios Kerastas and Kostas Siolas wanted to get some Greek coffee to another friend in London.  They made up a box of Greek coffee, a briki (the little cooking pot used for making Greek coffee) and some sweets and sent it off to the UK.
A few weeks later there was a site, the suitcases were designed, they'd started talking to producers and the first themed boxes were born.
The first one to be designed was the Greek coffee box which includes a briki, two traditional cups and saucers and a box of the wonderful Bariamis Sweets' loukoumia (Turkish delight). The box focuses on the joy of preparing the coffee as much as actually drinking it.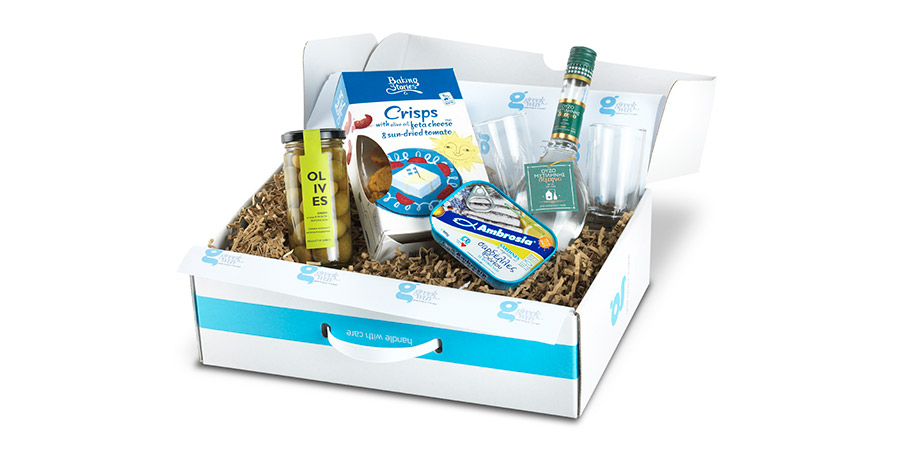 Another Greek classic, ouzo and meze, found its way into another box which includes a bottle of ouzo, some sardine meze, a box of olive oil, feta and sundried tomato rusks, a jar of green olives and 2 ouzo glasses. All you have to do is pour it.
The next one is more unexpected but apparently it's one of the owners' favourite things to do. A bag of Agrozimi trahana is perfectly matched with tomato paste, wholemeal croutons and extra virgin olive oil. A recipe card is also included in order for Greek Way owners to really join in the fun.
Lastly another Greek delicacy, rakomelo, is the centre of another box which includes a bottle of Cretan tsikoudia, orange flower honey, cinnamon and cloves. A briki is also part of the box as well as two shot glasses.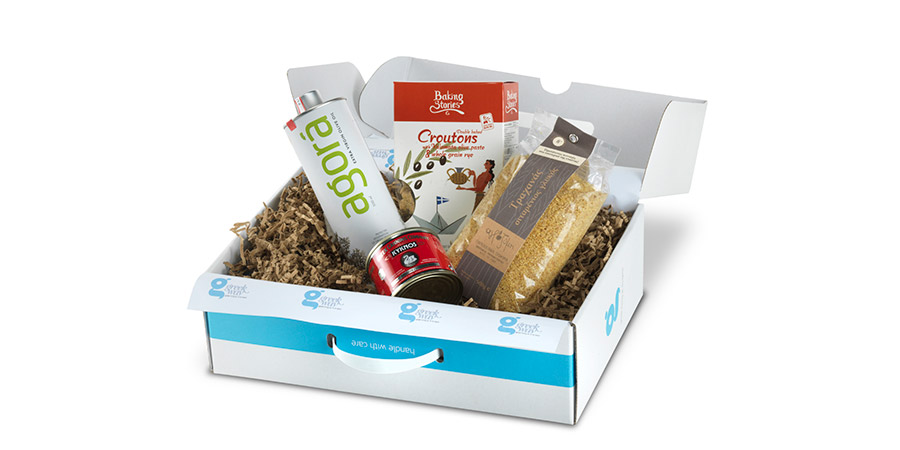 The 4 Greek way boxes want to be more than a just a souvenir, a full experience which will directly link visitors to their favourite holiday moments.  The company's aim is to introduce the Greece they love through these experience boxes.  The design is minimal but does tell the story of 24hrs in Greece through the use of light and shadows. There is a horizontal shadow for the morning coffee, the sun high in the sky for your ouzo, while the shadow becomes vertical when presenting the trahana meal.  As the sun sets, it's time for rakomelo.
The creators
Stelios Kerastas and Kostas Siolas are bringing to life a different kind of tourist gift concept: they want visitors to take away a snapshot of Greek life. They are very excited with the final result and want to introduce further boxes, based on seasonal produce, customer demand and innovative ideas. What's really noteworthy though is how two friends have managed, in such difficult times, to bring an idea to fruition in just 3 months. They worked really hard in order not to miss out on the peak tourist season and all they had left to do was send out the press releases. Luck was not on their side though as their launch date coincided with the implementation of capital controls in Greece.
After having waited a month and with uncertainty still very much the name of the game, Greek Way's founders decided to go ahead with the press releases and I couldn't agree more.  The reception has been fantastic and orders have started to come in from destinations as far away as Australia. Slowly the boxes will also become available in many central retail points as well.
There are those who doubt the potential of Greek entrepreneurship but cases such as these continue to prove them wrong.  Despite the crisis and the capital controls there are young people who are risking everything because they believe in their own potential as well as that of the Greek land and all it produces.  Great ideas like these will work and I think we should congratulate those who dare.  We can make it if we find the right way, the Greek way.
You can find the Greek way boxes at: Pantopolion, Efestou 9, Monastiraki, tel: +30 210 3254890
User Comments
Login or register to join the conversation